CONTACT
Qixiang Electron Science & Technology Co.,Ltd

Telephone:(86)595-22656925 (86)595-22656926
Fax:(86)595-22656927
E-mail:ken6833@qxdz.cn
Website:www.anytone.net
Address:Qixiang Building, Tangxi Industrial Zone, Luojiang District, Quanzhou 362011, Fujian, China
| | |
| --- | --- |
| Name: | Indonesia CB radio |
| Model: | AT-6666 |
| Introduction: | |

DESCRIPTION
Frequency: 25.615~30.105MHz
Function:
• Mode: AM, FM, USB, LSB, PA.
• AM PEP Max: 60W
FM Max: 45W
SSB Max: 60W
• ASQ function.
• Large LCD display.
• ECHO function.
• Frequency programmable on computer.
• VFO channel.
• CTCSS/DCS (option).
SPECIFICATION
TRANSMITTER
Power Output
AM: 15W / FM:45W / SSB: 60W(PEP)
Drain
12A(with modulation)
Modulation
FM/AM/USB/LSB

SSB: 3rd order, more than -25dB; 5th order,

55dB
Unwanted Sideband
50dB
Frequency Response
Output Impedance
50ohms, unbalanced
GENERAL
Frequency Range
28.000-29.700MHz(Programmable)
Frequency Band
A/B/C/D/E/F/G/H/I
Channel
40channels(programmable)in each band
Frequency Control
Phase-Locked-Loop Synthesizer
Frequency Step
100HzNj 1KHzNj 10KHzNj 100KHzNj 1MHz
Frequency Tolerance
±5.0 ppm
Temperature Range
-20ąto +50ą
Microphone
with push-to-talk /UP/DN and coiled cord
Input Voltage
13.8V
Dimensions (in mm)
245(L) x 158(W) x 48(H)
Weight
1.5kg
Antenna Connector
UHF,SO239
RECEIVER
Sensitivity

SSB:0.25μV for 10dB(S+N)/N

(All at greater than 1/2 watt of audio output)

Adjacent-Channel Selectivity
AM/FM: 0dB SSB: 70dB
Image Rejection
More than 65dB
IF Frequency

AM/FM: 10.695MHz 1st IF, 455KHz 2nd IF

RF Gain Control
45dB adjustable for optimum signal reception
Automatic Gain Control(AGC)

Less than 10dB change in audio output for

inputs from 10 to 100,000 microvolt.

Squelch

Adjustable;threshold less than 1.0μV

Automatic Squelch Control(onle AM/FM)1.0μV

Audio Output Power
3 watts into 8 ohms
Frequency Response
AM/FM: 300 to 3000Hz SSB: 450 to 2500Hz
Built-in Speaker
8 ohms, round.
External Speaker(Not Supplied)
8 ohms; disables internal speaker when connected.
ACCESSORIES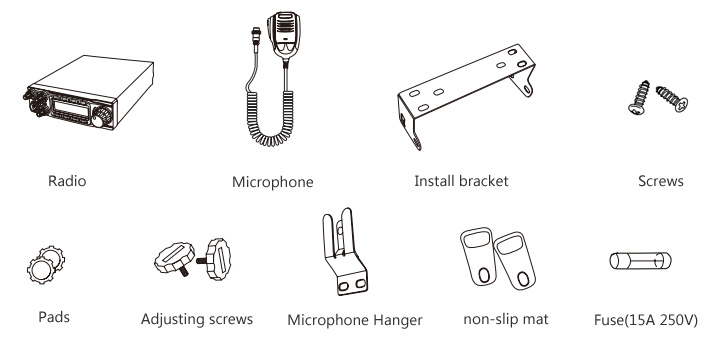 Begintime:2017-4-17 0:00:00