CONTACT
Qixiang Electron Science Technology Co.,Ltd

Telephone:(86)595-22656925 (86)595-22656926
Fax:(86)595-22656927
E-mail:ken6833@qxdz.cn
Website:www.anytone.net
Address:Qixiang Building, Tangxi Industrial Zone, Luojiang District, Quanzhou 362011, Fujian, China
| | |
| --- | --- |
| Name: | Vehicle Radio |
| Model: | AT-588 |
| Introduction: | Vehicle Radio |

DESCRIPTION
Function:
• Output Power : 70W(VHF),40W(UHF)/25W/10W.
• 200 programmable memorized channels,the channels can be marked with letter and digits.
• CTCSS/DCS/DTMF/2Tone/5Tone decode and encode.
• Four different tone-pluse frequencies.
• Compander to reduce noise; Theft alarm.
• ANI function (DTMF/ANI, 5-Tone/ANI)/PTT ID.
• QHM-03 multifunctional microphone with DTMF.
• Scramble function (option).
• 12V/24V for truck which no need extra DC power supply(option)
SPECIFICATION
General
Frequency Range




245-245.9875MHz (220~260MHz)




Number of Channels

200channels

Channel Spacing







Phase-locked Step




5KHz, 6.25KHz,8.33KHz, 10KHz, 12.5KHz,

15KHz, 20KHz, 25KHz, 30KHz, 50KHz




Operating Voltage

13.8V DC ±15%

Squelch

Carrier/CTCSS/DCS/5 Tone /2 Tone/DTMF

Frequency Stability
±2.5ppm
Operating Temperature

-20℃~+60℃

Dimensions (WxHxD)

145 (W)×47 (H)×190 (L)mm

Weight

about 1.2Kg
TRANSMITTER

Wide band
Narrow band
Sensitivity(12dB SINDA)
"≤0.25μV
"≤0.35μV
Adjacent Channel Selectivity
"≥70dB
"≥60dB
Intermodulation
"≥65dB
"≥60dB
Spurious Rejection
"≥70dB
"≥70dB

Audio Response

+1~-3dB(0.3~3KHz)

+1~-3dB(0.3~2.55KHz)

Hum & Noise
"≥45dB
"≥40dB
Audio Distortion
" ≤5%
Audio Power Output

>2W@10%
ACCESSORIES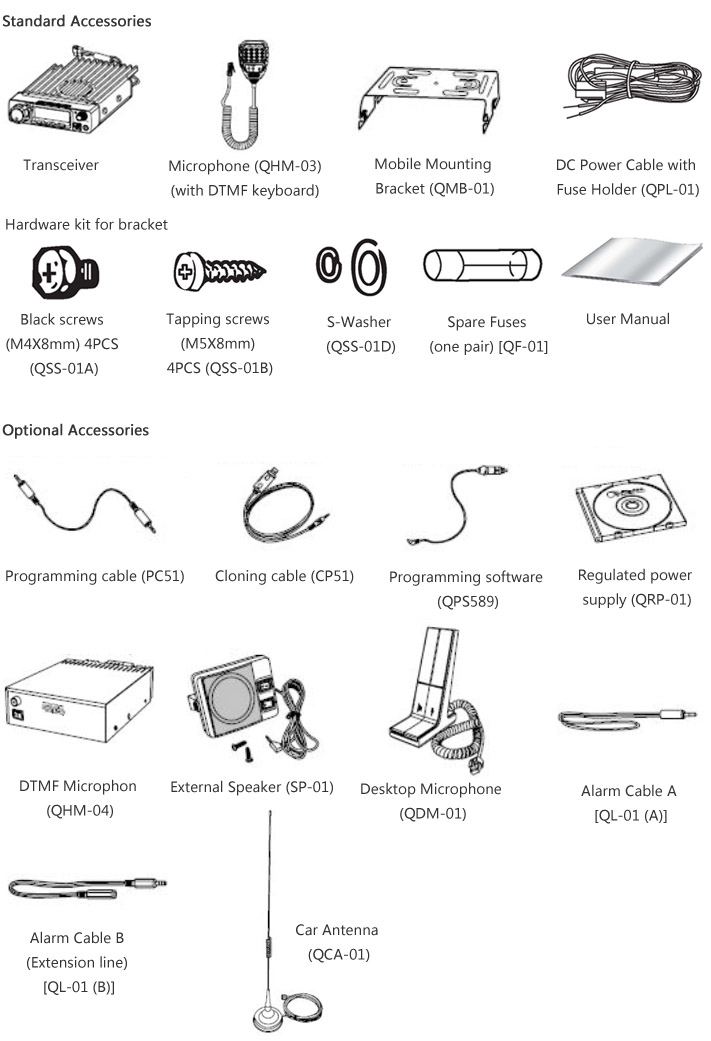 Begintime:2017/4/18 0:00:00